The ancient fishing town of Nessebar lies on the shores of the Black Sea, just 30km from the town of Burgas and about 5km from the resort of Sunny Beach. The whole town is one of the protected areas, which are listed as a UNESCO World Heritage Site.
From the history we learn that the town was founded by the ancient Greeks from Megara in the 6th century. Its original Ancient Greek name was Μεσημβρία – Mesémbria. Still in the 19th cent. In the 19th century, the town was inhabited mainly by Greeks, who made their living by fishing and grape growing. In 1919-1923, when the Greek-Bulgarian population exchange took place, the local Greeks moved back to Greece.
When you arrive in Nessebar, the first thing you will notice is the bridge connecting the peninsula to the mainland. Apart from the bridge, you will also notice the ancient wooden mill and the 10-meter high statue of St. Nicholas – the patron saint of fishermen. You will be impressed by the massive, ancient walls, which were built from large stone blocks that served as the defence of the town and were of such high quality that they did not suffer even when the Romans conquered the town. During the Turkish rule, the Greek bishopric continued to operate here and the city was an important centre of Greek culture. That is why so many medieval churches have survived.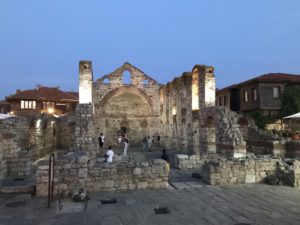 The old part of Nessebar is interspersed with a network of old stone lanes, lined with typical Balkan houses that blend beautifully into the overall appearance of the town. The local houses shelter a number of small shops, so you can buy traditional Balkan spices, teas, natural cosmetics and honey – especially products made from local roses and herbs. You will be tempted to taste traditional excellent wine in the small wine bars. The ancient town is perfect for enjoying the local gastronomy. Here you will find typical fish restaurants and taverns with beautiful sea views. From Sunny Beach you can easily reach Nessebar by local bus, taxi service, water taxi or the holiday train that runs along the entire coast.
From our own experience, we recommend using the water taxi. The ticket costs 5€/10 Lev per person (one way) and the experience is unique, although sometimes there are big waves 🙂
.