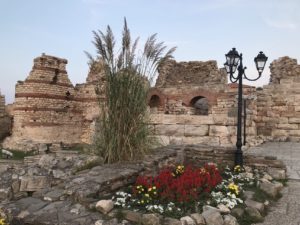 The historical fishing town of Nessebar is located on the coast of the Black Sea, only 30 km from the town of Burgas and about 5 km from the resort of Sunny Beach. The whole city belongs to the monument-protected areas, which are listed on the UNESCO list of cultural monuments.
From history, we know that the city was founded by the ancient Greeks of Megara in the 6th century. BC at the site of the Thracian settlement and its original ancient Greek name was Μεσημβρία – Mesémbria. Still in the 19th century. the city was inhabited mainly by Greeks, who subsisted on fishing and growing grapes. In 1919-1923, when the Greco-Bulgarian population exchange took place, the local Greeks moved back to Greece.
When you come to the town of Nessebar, you will first notice the bridge connecting the peninsula with the mainland. In addition to the bridge, you will also be interested in the ancient wooden mill and the 10-meter high statue of St. Nicholas – patron saint of fishermen. You will be fascinated by the massive, ancient walls, which were built of large stone blocks that served as a defense of the city and it was a work of such quality that it did not suffer even when the Romans conquered the city.
During the Turkish domination, the Greek diocese continued to operate here and the city was an important center of Greek culture. That is why so many medieval churches have been preserved here.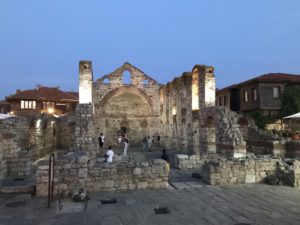 The old part of the town of Nessebar is interwoven with a network of alleys of old stone sidewalks, which line typical Balkan houses, which fit beautifully into the overall appearance of the town. The local houses are home to many small shops, so you can buy traditional Balkan spices, teas, natural cosmetics, and honey – especially products made from local roses and herbs. You will be tempted to taste traditional excellent wine in small wine bars.
The historical town is perfect for enjoying local gastronomy. Here you will find typical fish restaurants and taverns with beautiful sea views. From Sunny Beach, you can easily get to Nessebar by local bus, taxi, water taxi or recreational train that runs across the coast.
From our own experience, we recommend using a water taxi. The ticket costs 5 € / 10Lev per person and the experience is unique, even if there are sometimes larger waves. 🙂